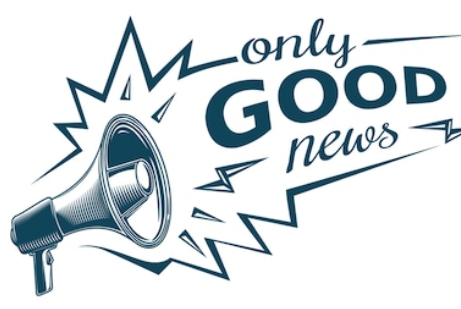 Pike Creek Dental is more than a "Dental Office", we truly want to enrich the community we are a part of and make our surroundings better! Here you will find news regarding our team, clients and more!
What is happening around Pike Creek Dental??
We are moving right along with construction and everything should be wrapped up before the holidays! . A beautiful stone wall was just installed in our waiting room, along with new furniture. Soon a TV and beverage station will be up and running. Stay tuned for the final touches! 
Friendly Reminder!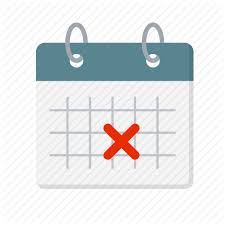 Pike Creek Dental asks that you kindly call and cancel or reschedule your appointment at least 24 hours prior to your check-in time. 
Our office will be closed Thursday, November 25th and Friday, November 26th for the Thanksgiving holiday.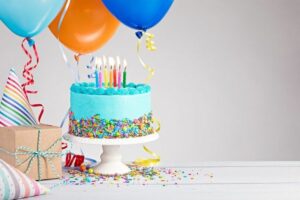 November Celebrations 
11/1 – Dr. Pike celebrated his 3 year work anniversary 
11/1 – Debbie, our front desk coordinator, celebrated her 3 year work anniversary 
11/1 – Martha, our hygienist, celebrated her 3 year work anniversary
11/7 – Dr. Ryan Robinson will celebrate his birthday
11/11 – Giovanna, our marketing director, will celebrate her 2 year work anniversary
11/13 – Bridget, our front desk coordinator, will celebrate her birthday
11/17 – Lesa, our hygiene coordinator will celebrate her birthday
October WOW Winner!
Congratulations to our October WOW winner, Kristen!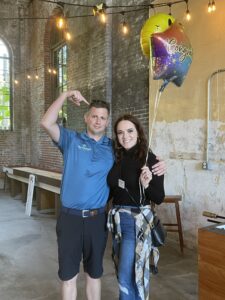 Kristen was nominated by so many team members in the month of October for her kind heart. Kristen is always thinking of others first, no matter if you are a patient, boss, team member, or Amazon delivery driver. She is always ready and willing to lend a hand. One of our patients had an issue with her transportation during a massive rain storm. Kristen jumped into action and took it upon herself to call and pay for an Uber for our patient, so she could get home. Along with the Uber ride, Kristen sent our patient home with blankets, because by the time her Uber came she was soaking wet. What a wonderful person to have on our team. Congratulations to Kristen!
October Pike Creek Dental Staff Retreat!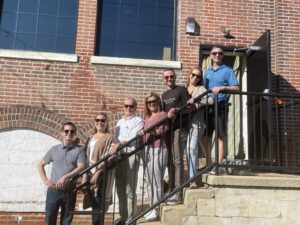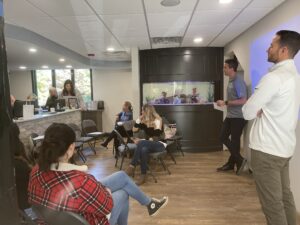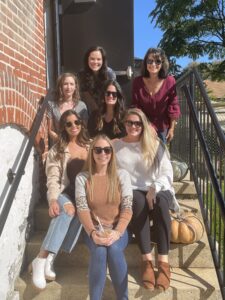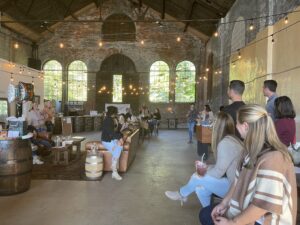 On Wednesday, October 20th, we closed our doors to our patients and had a team bonding day filled with learning and fun! For the morning portion of our staff retreat we gathered at Pike Creek Dental and had business updates, training on all necessary precautions for the office, and broke out into small groups to concentrate on making our departments better than ever! After all of the business in the office, we headed to West Branch Distilling Company located in Kennett Square, Pa. We were greeted by the owner, Kevin and his assistant. KOI on the Go was there and ready  to serve lunch to the entire team. The menu was amazing, we were offered spring rolls, chicken katsu, fish tacos, and dang dang noodles with shrimp. Wonderful food! After we had lunch, some of our team members were awarded for their accomplishments. We were also able to celebrate our C.O.O., TJ's birthday at the distillery. He was so happy to spend his birthday with the people who he cares most about! 
Kristin, our hygienist, was given the Core Value Award. She was chosen for this award because she always goes above and beyond in all aspects of her job. She is the true definition of a team player. 
Melissa, Tina, Jill, and Grace were all given awards by Dr. Kyle  for being wonderful in their own way! 
4th Annual Pediatric Airway Symposium!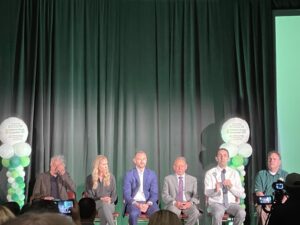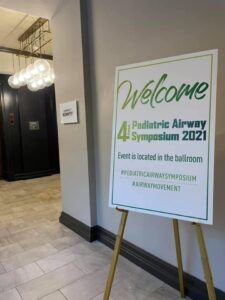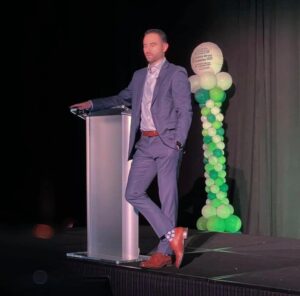 Dr. Ryan Robinson hosted the 4th annual Pediatric Airway Symposium in Philadelphia, Pennsylvania on Friday, October 22nd and Saturday, October 23rd. The entire office went to Philadelphia to support our amazing boss and to gain even more knowledge on the pediatric airway epidemic. It was truly fascinating to listen to the top educators from across the United States!
PCD Patient Spotlight for October
Every month we pick one of our amazing patients to give a present from a small local business. For the month of October  we picked Mr. A.! Mr. A. has been a patient with us for over 45 years. Mr. A. happened to celebrate a milestone birthday this month and we wanted to give him something super special . We drove to his residence and  gifted him a gift card to Capers and Lemons, located in Wilmington, DE. We hope he was able to have a wonderful birthday dinner courtesy of Pike Creek Dental. Thank you Mr. A. for being a patient with Pike Creek Dental for most of your life! We appreciate you! If you have not been to Capers and Lemons, make sure to check them out.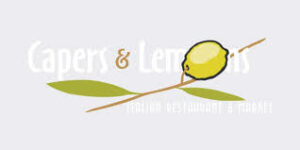 https://www.capersandlemons.com/
Pike Creek Dental's 2nd Annual Trunk-or-Treat Event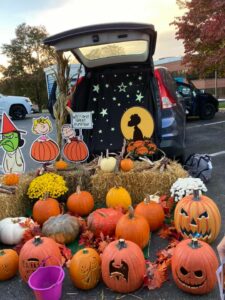 On Thursday, October 28th Pike Creek Dental and Alpine and Rafetto joined together to host the 2nd annual trunk-or-treat event at 4901 Limestone Road. It was an absolutely beautiful night and we had a huge turnout! Between the two offices we were able to have 20 trunks decorated and gave out close to 800 pounds of candy and snacks! Not only did our guests have 20 trunks where they were able to trunk or treat, there were also four different food trucks available to grab dinner from. Honest Eats, Brappin Crabs, Julian's Mac and Cheese, and Madd Mini Donuts! All of the food trucks were amazing and would love to participate in our event next year! Along with all of this fun stuff, if parents came dressed up in costume, they were entered to win a YETI filled with all adult gifts, plus gift cards to Maureen's, Anthony's, and Club Pilates all located right here in Pike Creek. Our winner of the best decorated car was Jurassic Park, decorated by our assistants, Kristen and Christina! 
https://www.maureenssalonandspa.com/
https://acfp.com/location/pike-creek/ https://www.clubpilates.com/location/pikecreek 
Food Drive and Mis-Matched Sock Drive 
During the month of November, Pike Creek Dental will be hosting a canned food and mis-matched sock drive. We are collecting any non-perishable food  items to be given to a community outreach program just in time for the holidays. There will be 2 wrapped boxes, one for food and one for socks/clothes.  Please stop by and drop off what you can. For any items donated you will be given a raffle ticket for your chance to win a Sonicare Electric Toothbrush! Please help out with whatever you can!
PCD Promotions!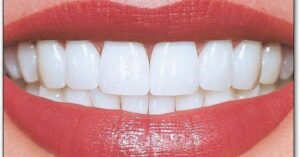 Do you wish your smile was whiter and brighter?
The office is currently running a special on Take-Home Whitening Kits! They are currently 50% off! That is a savings of $ 175.00! Get them while supplies last! Call the office to secure your kit today!
 (302) 239-0410
See Last Month and Previous News Letters, Click Below: