Dental Hygiene
Doctors Robinson, Kwon, and Green and the entire staff at Pike Creek Dental are your partners in oral health.  We know that you also want to do your part, so to help you out, we've outlined below the basics of oral and dental health.
Hygiene: Maintaining Your Dental Health
Your Part in Dental Hygiene
Your role begins with brushing after every meal with fluoride toothpaste, flossing daily, and using mouthwash. Avoid sugary and starchy foods that can lead to tooth decay. You also should wear a mouth guard when playing contact sports. Do not smoke. Do not pierce your tongue, lip or any part of the mouth.
It's also vital that you maintain a schedule of regular dental checkups. For many people, that means every six months, but some people might need to see their dentist more often. Your dentist will advise you. And always, if you have any problems or concerns, please call us so that we can best advise you and see you as soon as necessary.
Our Part in Your Oral Health
With young children, a large part of our role is to discuss and demonstrate proper brushing and flossing techniques. But we do the same for adults when we notice areas of the mouth that are not receiving the attention they need.
We will advise you about the best, most effective products for your dental concerns; whether it's toothpaste for sensitive teeth or a new type of product to help you clean between your teeth more thoroughly. We take X-rays every one to two years, or as needed for problems that arise. During your regularly scheduled checkup we will clean your teeth to remove any accumulated plaque and polish them as well. We also do a thorough screening for any signs of oral cancer. Experts recommend a yearly screening for oral cancer, as early detection is one of the most important tools we have for fighting this potentially deadly cancer.
Care Throughout Your Lifetime
Young smiles demand our special dental care, including fluoride treatments and sealants to help protect against cavities. As children get older, we will advise you on whether there is a need for orthodontic treatment. Aging smiles require vigilance to keep alert for deteriorating older fillings, cracked teeth, worn enamel, gum disease and mouth cancers. We will advise you as to the best treatments for any issues that arise. Many of these can be taken care of right in our office, because our dentists and staff are trained and experienced at all types of cosmetic and restorative dentistry.
Your Smile, with Our Help
Working together, we can help to ensure that you will have a healthy, attractive smile through all stages of your life.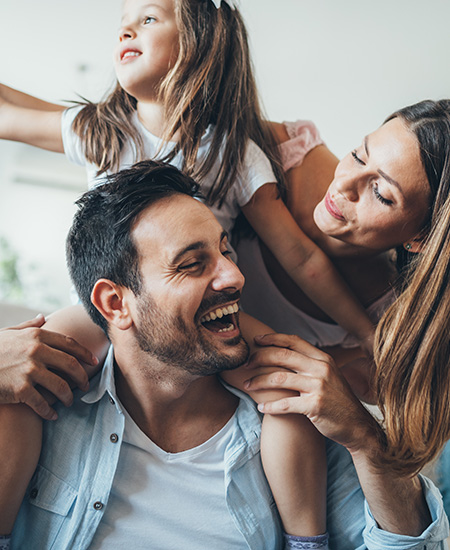 Dr. Ryan and his team are always friendly, knowledgeable, and skillful in their work. My previous experiences had mainly been with the hygienists, who are all excellent, but I had my first cavity and the procedure for a filling was nothing short of impressive. Quick and painless!
Definitely recommend Pike Creek Dental, exceptional service through out the entire practice I would describe myself as not the biggest fan of going to the dentist and I have no problem going here.