Meet Our Team
Your dentist is your trusted partner in oral health and works closely with you to promote good dental hygiene and to provide quality dental care. Doctors Robinson, Joanna and Kyle Green, Kwon, Pike, Faure, and Kehrer work in conjunction with an excellent team of qualified, caring, professional dental staff members.
Our Doctors
Your dentist is your trusted partner in oral health and works closely with you to promote good dental hygiene and to provide quality dental care. Doctors Robinson, Joanna and Kyle Green, Kwon, Pike, Faure, and Kehrer work in conjunction with an excellent team of qualified, caring, professional dental staff members.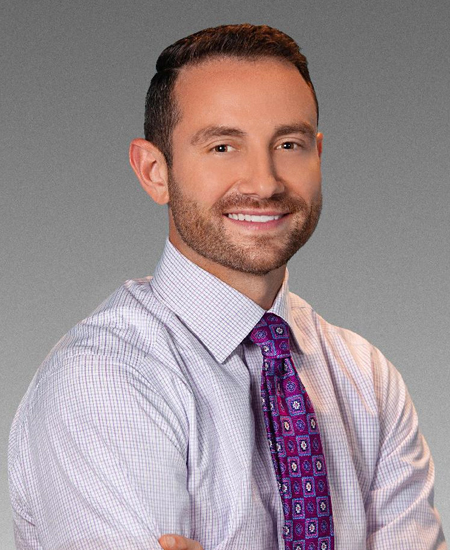 Dr. Ryan P. Robinson
Dr. Robinson values taking the time to get to know each of his patients and their dental needs.  He feels this contributes to the family atmosphere for which Pike Creek Dental has always been known for. He is dedicated to continuing education ensuring that his patients receive the highest standard of care.  His commitment to quality governs every aspect of his work.
Dr. Robinson was born and raised in Pike Creek Valley and is thrilled to be making his permanent home here with his wife and high school sweetheart, Renee and their children, Bryce and Reese. Since his youth, Dr. Robinson has loved sports and enjoys playing golf, baseball, basketball and soccer, and participates in many of the New Castle County Recreational League.
"
It is such a blessing to come to work every day and know that we are impacting the lives of our patients. We are a TEAM and we all have the same goal; providing treatment to our patients in a trusting and caring environment, where only the highest standards are acceptable. We are like family here and that not only extends to ourselves but to our patients as well. The relationships we have built, keep us motivated to come to work each day giving our best effort. It is our pleasure to go above and beyond and not only meet our patient's expectations, but exceed them!

"

Education: BA in biological sciences, University of Delaware; DDS, University of Maryland Dental School; General Practice Residency, Christiana Care Hospital

Professional Affiliations: American Academy of Dental Sleep Medicine, American Dental Association, Delaware State Dental Society, Academy of General Dentistry

Service: Volunteer for Delaware's "Give Kids a Smile" and Maryland's "Access to Care" programs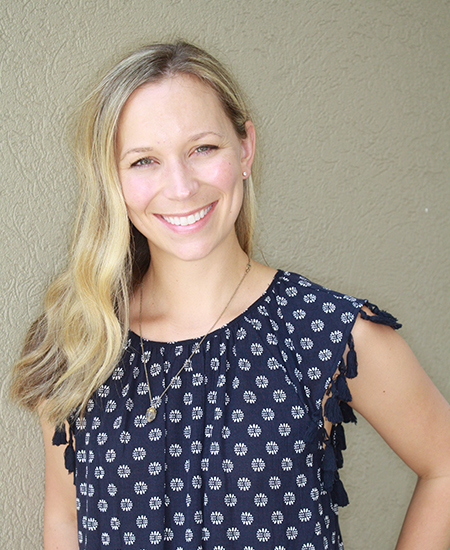 Dr. Joanna G. Green
Dr. Green enjoys all aspects of dentistry and provides her patients with individualized and comprehensive care. She attends continuing education programs on various topics and stays abreast of the latest technology and new techniques. Her services include restoration of implants, crowns, veneers, restorative dentistry, root canals, extractions, partials and dentures, and occlusal appliances.
Dr. Green brings her experience as a mother to her work, and the health and comfort of children are always a priority. She prides herself on providing the highest quality of care for all generations of the families in her practice.
A Maryland native who grew up in the Annapolis area, Dr. Green now resides locally with her husband Kyle and their children. Outside of the office, she enjoys spending time with family and friends, cooking, or running with Murphy, their Irish Setter.
"My philosophy is simple, I believe every patient is entitled to comfort—from the moment you walk in the door, to discussing and planning your oral health needs, and ultimately when in the dental chair. By listening to your needs and wants, I strive to create an atmosphere that changes the way you think about dentistry and puts you at ease. I look forward to taking part in your care to create and maintain a healthy and beautiful smile."
Education: BS in Biology, Clemson University; DDS, University of Maryland Dental School; General Practice Residency, Christiana Care Hospital; postgraduate and continuing education, Pankey Institute
Professional Affiliations: American Dental Association, Academy of General Dentistry
Service: Medical Mission of Mercy Philippines, "Give Kids a Smile"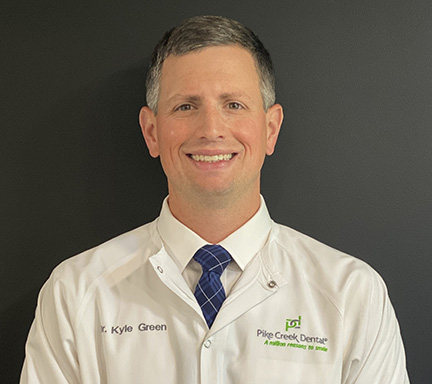 Dr. Kyle Green
Dr. Kyle is a Delaware native, who grew up right around the corner from Pike Creek Dental and was even an original patient of the practice! He feels fortunate to be able to serve the community he has been a part of for the majority of his life. He is also a grateful alumnus of Salesianum High School, where his journey to becoming a dentist began. Dr. Kyle takes pride in having a gentle touch, a listening ear at all times, and building relationships with everyone he encounters.
Dr. Kyle enjoys all aspects of general dentistry and offers a wide variety of services with a special interest in implants, laser periodontal therapy, and cosmetic dentistry. He loves the use of technology to better serve his patients and continually educates himself on the latest procedures.
Dr. Kyle met his wife Joanna in dental school and loves spending quality time their children and Irish Setter. He is also an avid outdoorsman and sports enthusiast, so you can typically find him outside when he is not in the office helping our patients!
"People don't care how much you know until they know how much you care." – Theodore Roosevelt
Education: B.A. in Biological Sciences, University of Delaware; DDS, University of Maryland Dental School; General Practice Residency, Christiana Care Hospital; Continuing Education with the Spear and Misch Institutes
Professional Affiliations: American Dental Association, Academy of General Dentistry, Delaware State Dental Society, International Congress of Oral Implantologists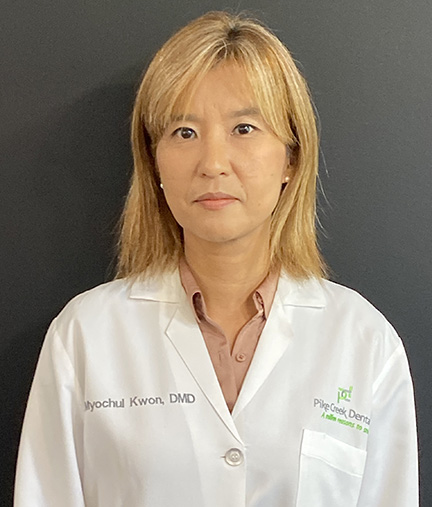 Dr. Myochul Kwon
Dr. Myochul Kwon is herself a mother of young children, so she has a special touch with our younger patients. Children and teens make up 40 percent of her patients. Whether they are discussing cartoon characters or a child's interests, she is always able to make them feel comfortable and reassured. That same trust building is important with adult patients, too, and Dr. Kwon's gentle, knowledgeable manner makes it easy for patients to put their oral care in her capable hands. She provides the full spectrum of dental care, including routine checkups, oral surgery, root canal therapy, crowns, and restorations.
"We are a different type of dental practice. We are not interested in seeing large quantities of patients. We value quality. We take our time to get to know every patient and his or her dental needs, and we always provide care that is up to the highest standards."
Education: Bachelor's Degree in biochemistry, University of Delaware; DDS, Temple University School of Dentistry, General Practice Residency, Christiana Care
Professional Affiliations: American Dental Association; Delaware State Dental Society, Academy of General Dentistry, Academy of Osseointegration
Service and Other Work Experience: Westside Public Health Clinic; supervisor of dental residents, Christiana Care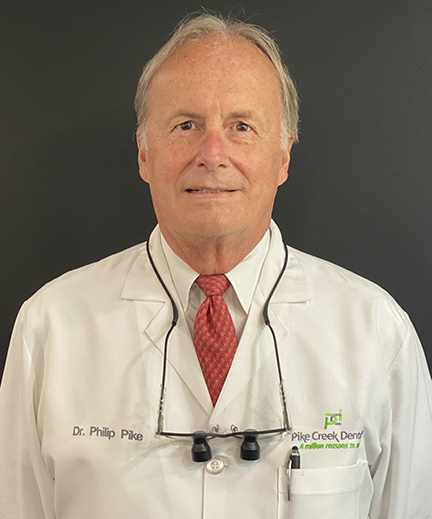 Dr. Philip Pike
Dr. Pike entered the Ohio State University's School of Dental Medicine in 1981 after spending six years supervising the Infectious Disease Lab of the Medical Center of Delaware (Christiana Care). His experience in the healthcare field, specifically infectious disease research, was the perfect platform for a career in dentistry. Philip graduated from OSU's program cum laude and received numerous awards for excellence in dentistry and patient care. Phillip started his dental practice Dental Health Associates in 1986. He joined us in 2018 bringing his amazing experience to our Pike Creek Dental Family.  Philip continues to broaden his knowledge in all aspects of dentistry through continuing education. 
Philip and his wife, Gina, have two grown daughters. In his spare time he is an avid tennis and platform tennis enthusiast, sailor, fly fisherman, photographer and traveler.
Dr. Pike is a perfectionist and an artist who is committed to excellence in dentistry and to providing impeccable care for his patients.  He particularly enjoys restoring patients' smiles through the use of implants and various cosmetic dentistry techniques. He is pleased to be part of the Pike Creek Dental Team.
"
Our goal is to provide exceptional care for comfortable, functional and attractive teeth for a lifetime.

" – Dr. Pike

Education: General practice residency at Christiana Care in Wilmington and he is a scholar of the esteemed Pankey Institute

Professional Affiliations: A member of the American Dental Association, Academy of General Dentistry, the Delaware State Dental Society, and he is on the dental staff at Christiana Care Hospital. 

Service and Other Work Experience: Peer Review Board at Christiana Care, Multiple Mission Trips to the Dominican Republic as a Dental Consultant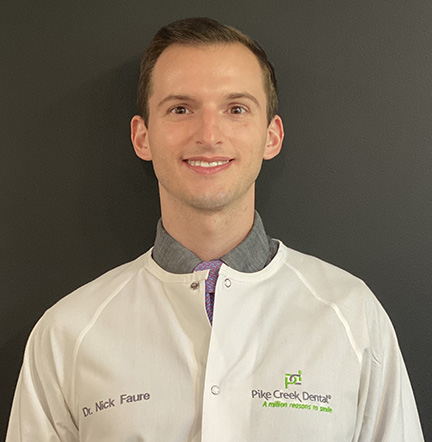 Dr. Nick Faure
Dr. Nick Faure was born and raised in the Midwest, receiving his Bachelor of Science (BS) in Health Science, Chemistry, and Biology from Valley City State University in Valley City, North Dakota. He then ventured to the West Coast to pursue a Doctor of Dental Medicine (DMD) degree from Oregon Health and Science University in Portland, Oregon and graduated in 2016. After finishing dental school, Dr. Nick returned home to North Dakota to begin his career in private practice. Although he will miss the Midwest, he is excited to continue the tradition of excellence that Pike Creek Dental is known for.
Known for his sense of humor, Dr. Nick is quick with a joke to lighten the mood, but is serious about providing high quality dental care, using the latest technology to help patients get the highest quality care they expect. He continues to broaden and advance his knowledge through a multitude of continuing education courses, allowing him to provide outstanding patient care.
Dr. Nick's attention to detail can be found outside the office as well, constantly working to perfect his favorite recipes. From cookbooks to family recipes, he enjoys learning different techniques or experimenting with new types of cuisine. In addition he is an avid reader with a keen interest in nonfiction and biographies. In addition to cooking he enjoys staying active whether hiking, road biking, yoga, or working out at the gym.
"
Your smile will give you a positive countenance that will make people feel comfortable around you.

" – Les Brown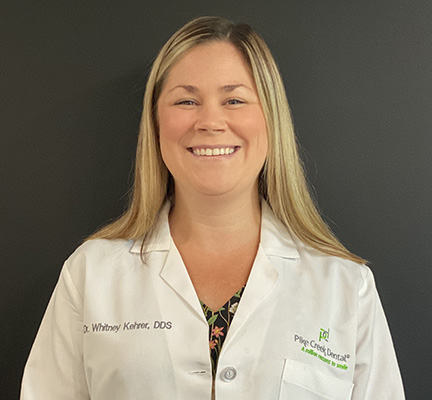 Dr. Whitney Kehrer
As a Delaware native, Dr. Whitney Kehrer is ecstatic to join the Pike Creek Dental family! She was raised in the Pike Creek area and is excited for the opportunity to care for many familiar faces. practicing in Maryland since 2013, Dr. Whitney has honed her skills in general and restorative dentistry. She enjoys treating patients of all ages and prides herself in providing a comfortable, gentle experience to all those that she treats. Her special interests include restorative and cosmetic dentistry, including fillings, crowns, bridges, veneers, dentures, and implant dentistry.
Dr. Whitney and her husband, Tyler, live in Wilmington with their two rescue dogs and enjoy taking hikes with them along the Brandywine in good weather. In her spare time, she enjoys cooking, gardening, and boating on the Bohemia River in Maryland in the summer.
Education: BA in Biological Sciences, University of Delaware; DDS, University of Maryland Dental School; General Practice Residency, Baltimore VA Hospital; continuing education, Pankey Institute
Professional Affiliations: American Dental Association
"For of those to whom much is given, much is required." – JFK
Administrative Team
Your Pike Creek Dental administrative team can assist you with all your scheduling, payment and insurance needs.
Penny
Practice Financial Administrator

 

Email
Penny has been with Pike Creek Dental since she began her career right out of the dental assisting program in 1985. Over the years she worked as a Dental Assistant, Treatment Coordinator and Insurance Administrator before stepping into her current role as Practice Financial Administrator. After so many years with the practice, she knows her coworkers and so many of our patients and their families extremely well.
"
Pike Creek Dental is a unique place. We uphold the highest quality standards and also show genuine interest and concern for our patients. We're all just like friends and family.

" – Penny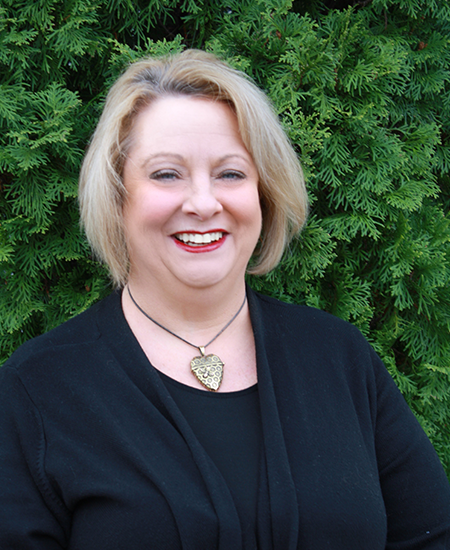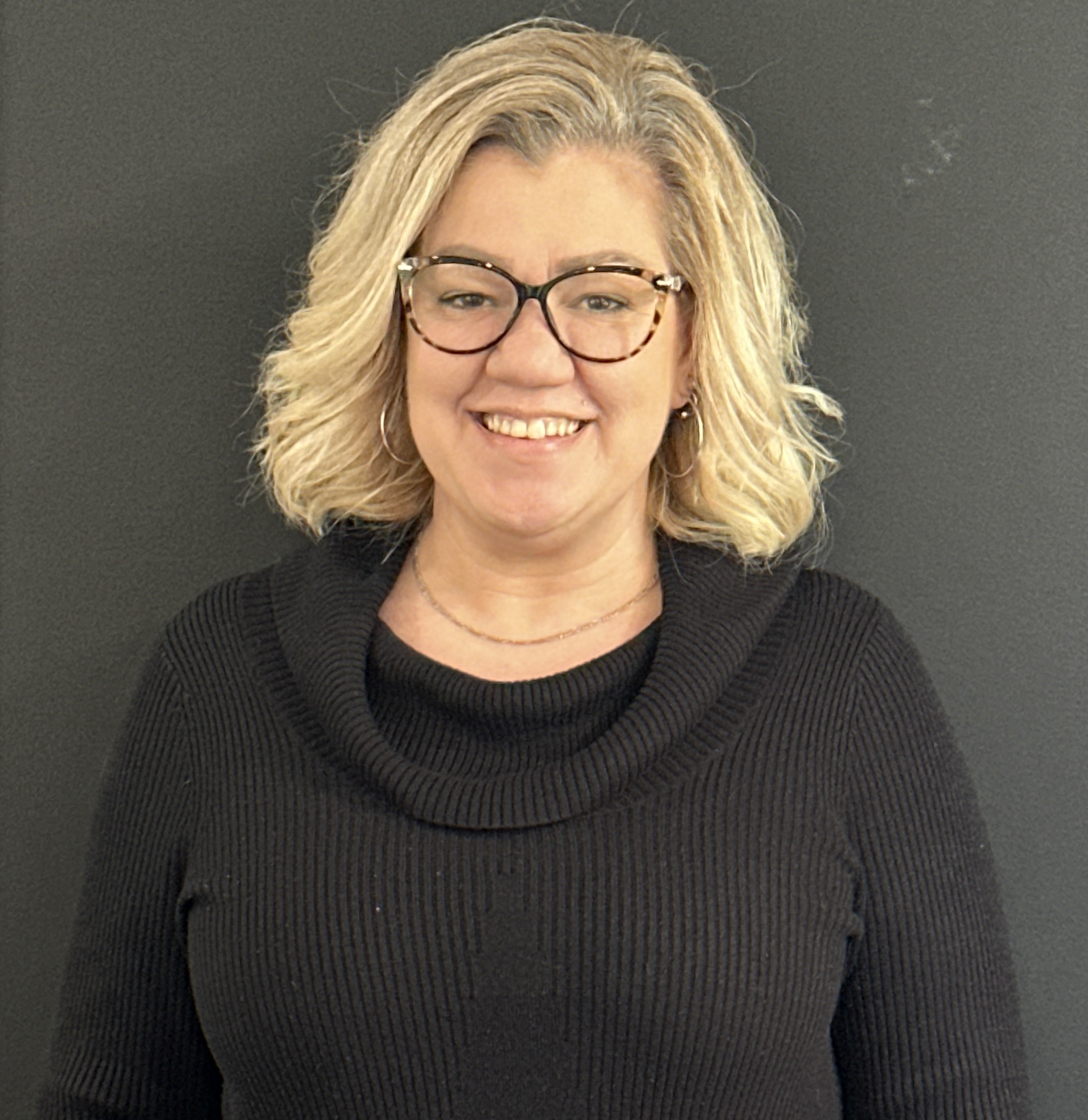 Amber
Clinical Operations Manager

Amber has been in management for 25 plus years, after receiving her MBA of Finance from Wilmington University.  Initially graduating from Delcastle High School as a Dental Assistant, she began her career working in a clinical setting with many dentists and oral surgeons.  Eventually, she became a licensed Aesthetician and instructor and she firmly believes the mantra "Healthy people, look and feel great!  Let's get everyone healthy!!"
She has a passion for patient care and providing an unparalleled patient experience.  Amber treats her teammates and patients like family, and takes great pride in building those relationships.
In her spare time, Amber loves DIY as well as singing in her acoustic group – 'Derringer.'  She resides in Elkton, MD with her husband, bonus son and their rescued Australian Cattle Dog/Beagle mix, Gus.
Jennifer
Doctor Treatment Coordinator 

 

Email
Jennifer has been in the dental field for over 20 years, she started as a dental assistant who loved the clinical aspect of dentistry. She later transitioned into a doctor treatment coordinator bringing her clinical knowledge into assisting patients with achieving their dental needs and goals. Jenn enjoys spending time with her family and friends going on vacations and trips to the beach. 
 "
If a job is worth doing, it is worth doing well.

" – 

EL James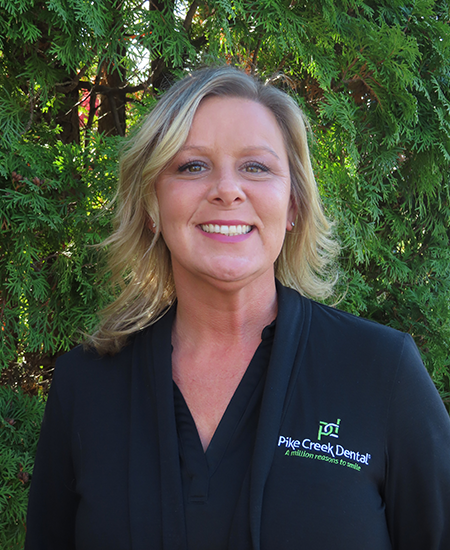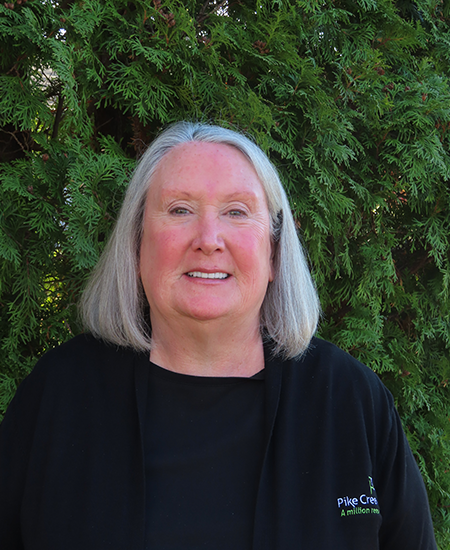 Debbie
Debbie has worked as an administrative assistant in dentistry for over 30 years.  She truly enjoys greeting and interacting with patients each and every day. Understanding that people fear going to the dentist, Debbie strives to make each patient feel as comfortable and welcome as possible.
"
People will forget what you said, people will forget what you did, but people will never forget how you made them feel.

" –

Mayou Angelou
Lesa
Lesa has been with Pike Creek Dental over 17 years. Her caring, compassionate and understanding ways for patient's needs goes above and beyond. She loves spending quality time with her family including her three fur friends. Lesa goes out of her way to make everyone smile and can always change your bad day by a simple "Hey Friend."
 "
Talent wins games, but teamwork and intelligence win championships.

" – Michael Jordan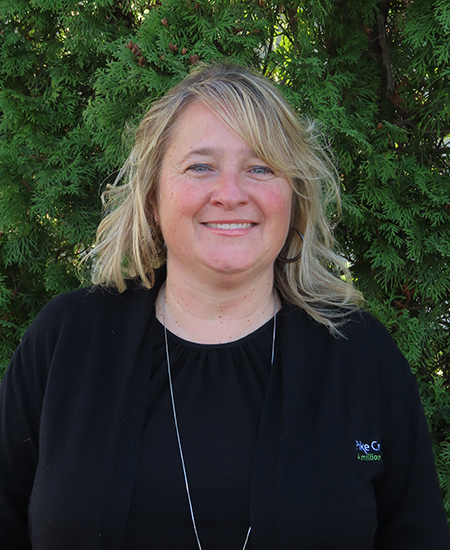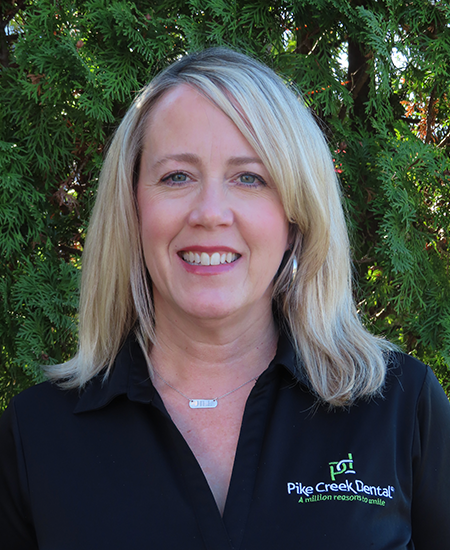 Jill
Jill has over 12 years of dental experience. Jill was a dental assistant for five years and then transitioned to front desk/treatment coordinator where she loves greeting and assisting patients with their treatment needs. She loves being an employee of a practice that believes in aiding the community as well as promoting growth and continuous support and education. When not working Jill loves spending time with her 2 children, husband and dog Cooper.
 "Don't limit your challenges. Challenge your limits." – author unknown
Hygienist Team
You'll come to know your dental hygienist well during your regular checkups with us. Your hygienist will clean your teeth, provide instruction, answer questions about routine dental care, and make note of any issues of concern for the dentist to investigate. Our hygienists work as a team with our dentists and dental assistants to provide a friendly, professional and caring environment.
Michelle
Registered Dental Hygienist
Michelle is detail-oriented and believes in giving 110 percent, whether she is in the office caring for long-time patients or out in the community educating children or care providers about dental hygiene. She enjoys the camaraderie she has with her coworkers, the way they anticipate each other's needs and chip in to help each other for the convenience of patients. After 30 years at Pike Creek Dental, she now cares for the children of patients who were children themselves when she began her career here.
"
A big reason patients say they keep coming back to Pike Creek Dental is the stability of the staff. They also comment that they know they are getting quality work. It is also the little things, like the fact that we will put moisturizer on their lips, or get them a pillow and a blanket to make them more comfortable

." –

Michelle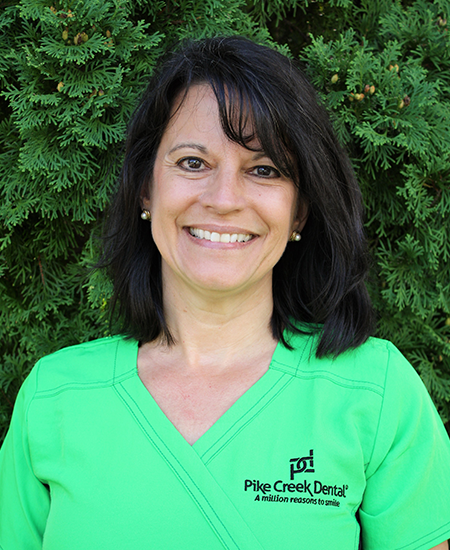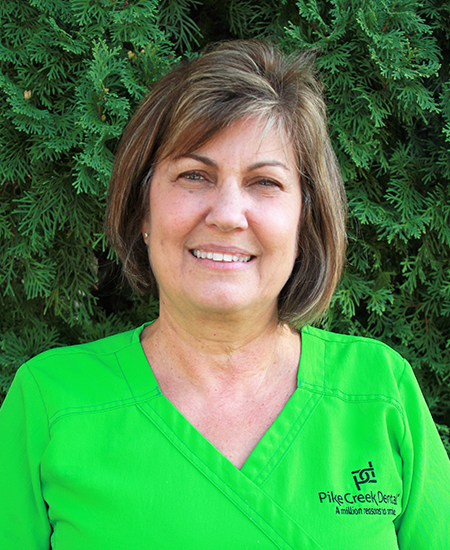 Sue
Registered Dental Hygienist
Sue joined Pike Creek Dental right after receiving her dental hygiene degree in 1999, and she has been here ever since. She loves that she has been seeing some of the same patients since the beginning. Nothing gives her more satisfaction than ensuring that they are comfortable and well cared for. Just like the office environment, Sue is warm, friendly and professional.
"
Our patients appreciate the professional yet casual attitude here. We even allow parents to bring their children with them, and the kids play quietly while they have their appointment

." – Sue
Audrey
Registered Dental Hygienist
Audrey's bright, infectious personality puts her patients at ease, providing an atmosphere that is both calming and relaxing. She prides herself on putting the patients needs first and she says that is exactly what attracted her to Pike Creek Dental.
"
It is important to me to be in an office where the doctors and staff work together to give our patients the best experience possible. Not only do we explain everything for the patients to understand, but we have the technology to illustrate and clarify any uncertainties they may have.

" – Audrey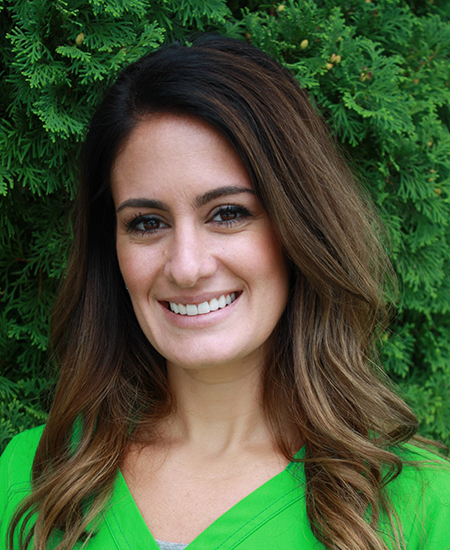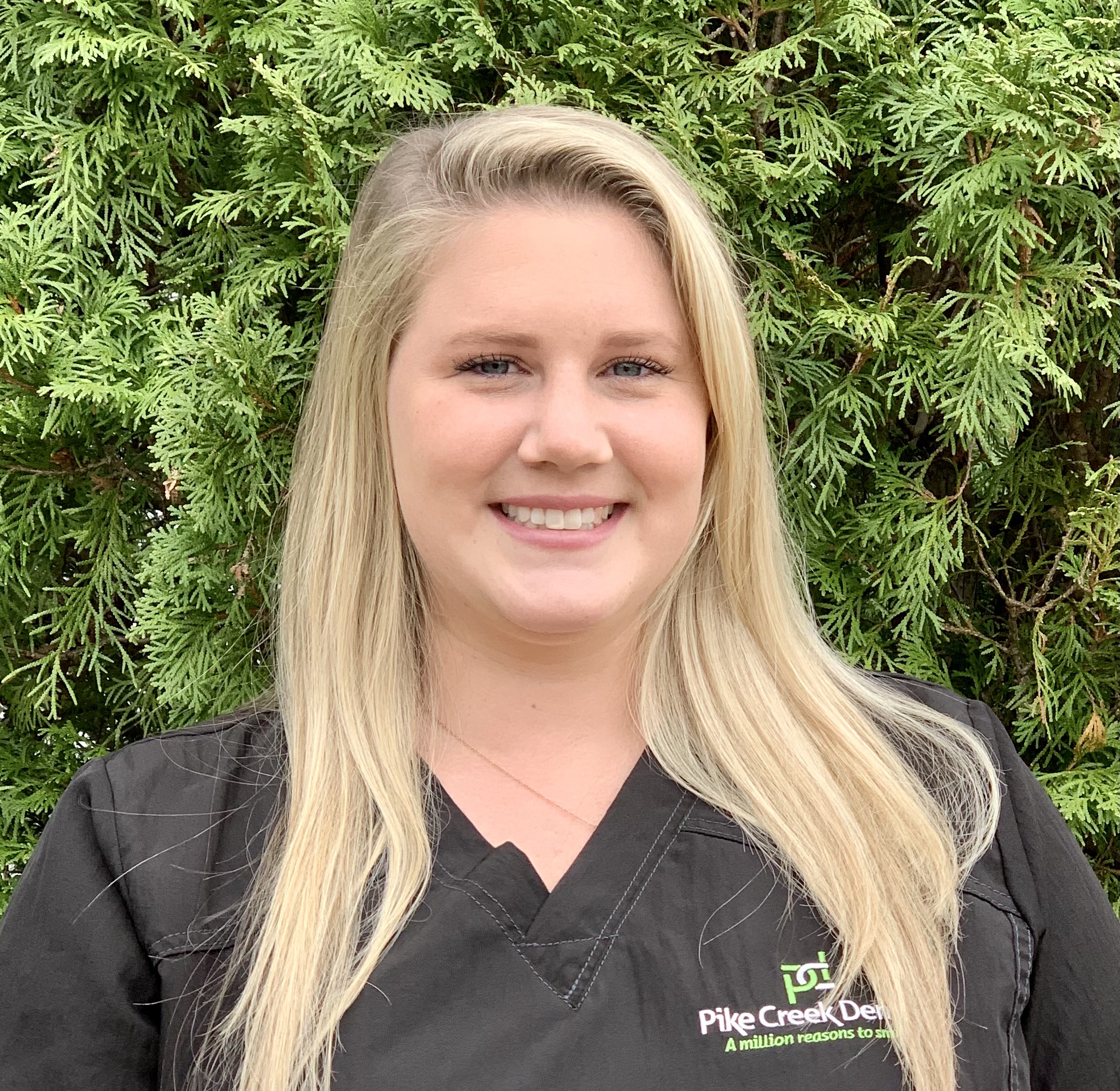 Sarah
Registered Dental Hygienist
Sarah started practicing dental hygiene in 2015, so she comes with years of experience, but after relocating to Middletown in 2019 she is happy to have found a home at Pike Creek Dental. Her favorite part of her job is meeting new people and developing lasting relationships with them. She enjoys seeing patients that have dental anxiety or children for their first visits in order to help ease their fears. A person's overall health is what is most important to her, so she continues to educate her patients about the newest studies and technology in order to ensure that they are happy and healthy. In her time off she enjoys spending time with her husband, Jack, taking walks with their two dogs and traveling to new places.
"
Here at Pike Creek Dental " The family atmosphere at Pike Creek Dental is infectious. Everyone really gets along and works together as a team to ensure the patient's experience is excellent. I am so proud to be a part of this family and can not wait to get to know my patients over the years!" – Sarah
Theresa
Registered Dental Hygienist
Growing up in the area and being a St. Mark's alumni, Theresa was thrilled to be able to get a job where she could serve the community that she grew up in. Theresa brings a youthful energy and dynamic into the office and she strives to make a difference in the lives of all the patients she has the ability to work with. Theresa is known for her infectious laugh and the ability to make her patients actually like coming to the dentist!
"
Being a hygienist is such a privilege to me. I think a person's smile is one of the strongest assets they can offer. I love making my patients feel confident about their smiles and their overall oral health. I also really enjoy getting to know each and every one of my patients. Here at Pike Creek, we treat everyone like family and that to me is the most unique thing about working here. I come from a very close knit family so working here has been a perfect fit for me!

" – Theresa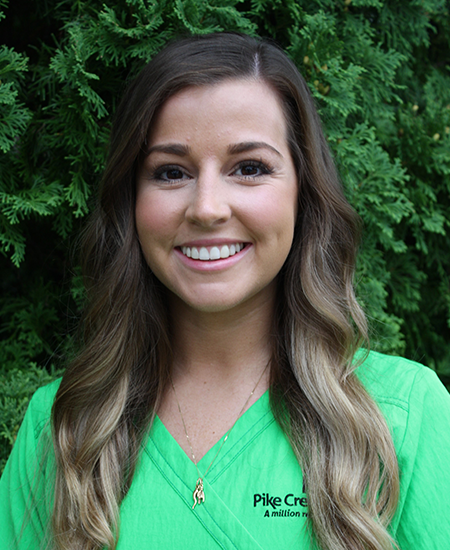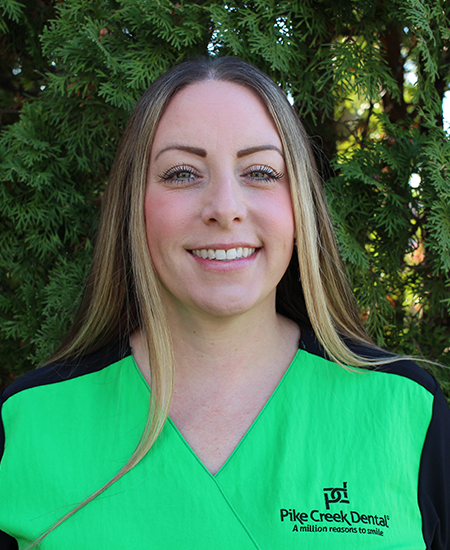 Kristin
Registered Dental Hygienist
Kristin was born and raised in Wilmington, Delaware where she currently lives with her husband, Larry and daughter, Emma.  She attended Delaware Technical Community College and received her Associates Degree in Dental Hygiene in 2007. She has practiced at Beautiful Smiles of Delaware for the past 12 years and in May merged with Pike Creek Dental. She has developed a strong and lasting relationship with many of her patients through the years and prides herself in making every visit a positive experience.
"
I especially feel accomplished when I can make people with previous negative memories of dentistry comfortable and happy to be receiving care.

" – Kristin
Christiana
Registered Dental Hygienist
Christie joined the Pike Creek team after relocating from western Maryland when she got married. She started practicing Dental Hygiene in 2012 and is passionate about the connections she is able to form with her patients. She is a perfectionist, always striving to give the highest quality care, and loves learning about the latest technologies and techniques. In her spare time she enjoys quality time with her husband, Jon, and their 2 cats, cheering on the Nittany Lions, trying out new recipes, and exploring historic destinations.
"
I've wanted to be a Dental Hygienist since I was a child. Being a part of an office that values excellence has been a dream come true.

" – Christiana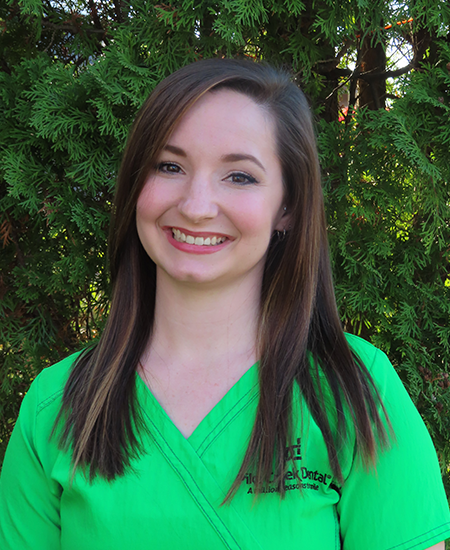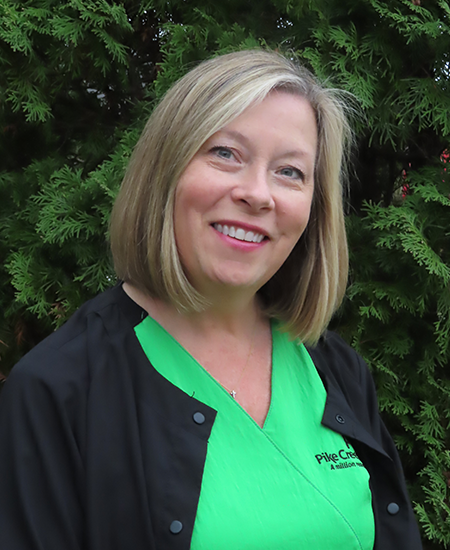 Martha
Registered Dental Hygienist
Martha has been working as a hygienist for 36 years.  She enjoys getting to know and developing relationships with her patients while helping them improve their oral health.  Total comprehensive  health is important to Martha, which has led her to becoming a Registered Nurse. She is a local Delawarean and lives in the area with her husband Steve, they have 2 grown children, 2 dogs and a cat. They enjoy the outdoors, bike riding and surf fishing.
"
If you want to lift yourself up, lift up someone else.

" – Booker T Washington
Grace
Registered Dental Hygienist
Grace graduated from Delaware Technical Community College's Dental Hygiene program earlier this year. Grace has been a part of Pike Creek Dental for quite some time, but has recently become full time. Grace was born and raised in the area with her 5 other brothers and sisters. Grace has been vegan the past 2 years and that has sparked a love for plant-based cooking and baking. If she is not cooking she is usually reading, running, or at the park with her dog, Molly.
"Determine never to be idle. No person will have occasion to complain of the want of time, who never loses any. It is wonderful how much may be done, if we are always doing." – Thomas Jefferson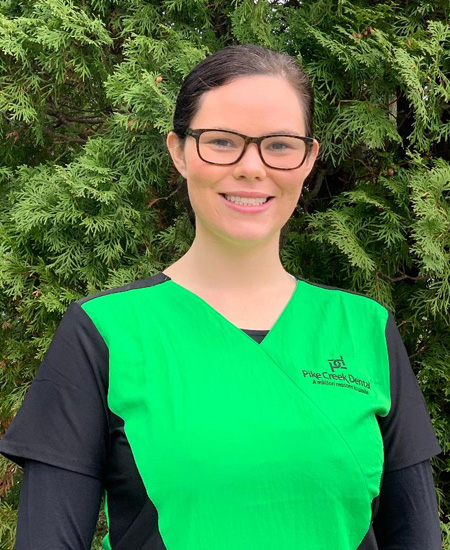 Dental Assistant Team
Our dental assistants will update your health history when you arrive. They take any necessary x-rays and impressions and can answer any questions you may have about your treatment. They work side by side with our dentists during procedures, assisting them while making sure your comfort is assured.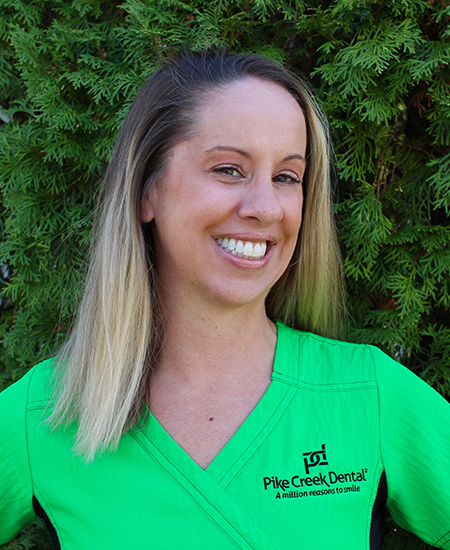 Troy
Troy has worked in the dental field for 18 years, as a Dental Assistant. Her main goal with each patient is to ensure that they are comfortable, relaxed, and know they are in good hands. To her, it is truly an amazing feeling each day knowing the difference we make by building value and trust with patients. In her free time she loves to spend time with her daughter, Josephine. One of her favorite places to visit is a local farm that allows her to visit the horses. She also enjoys watercolor painting and taking different art classes like, glassblowing and precious metal jewelry classes. 
"
Always remember you are braver than you believe, stronger than you seem and smarter than you think.

" –

Christopher Robin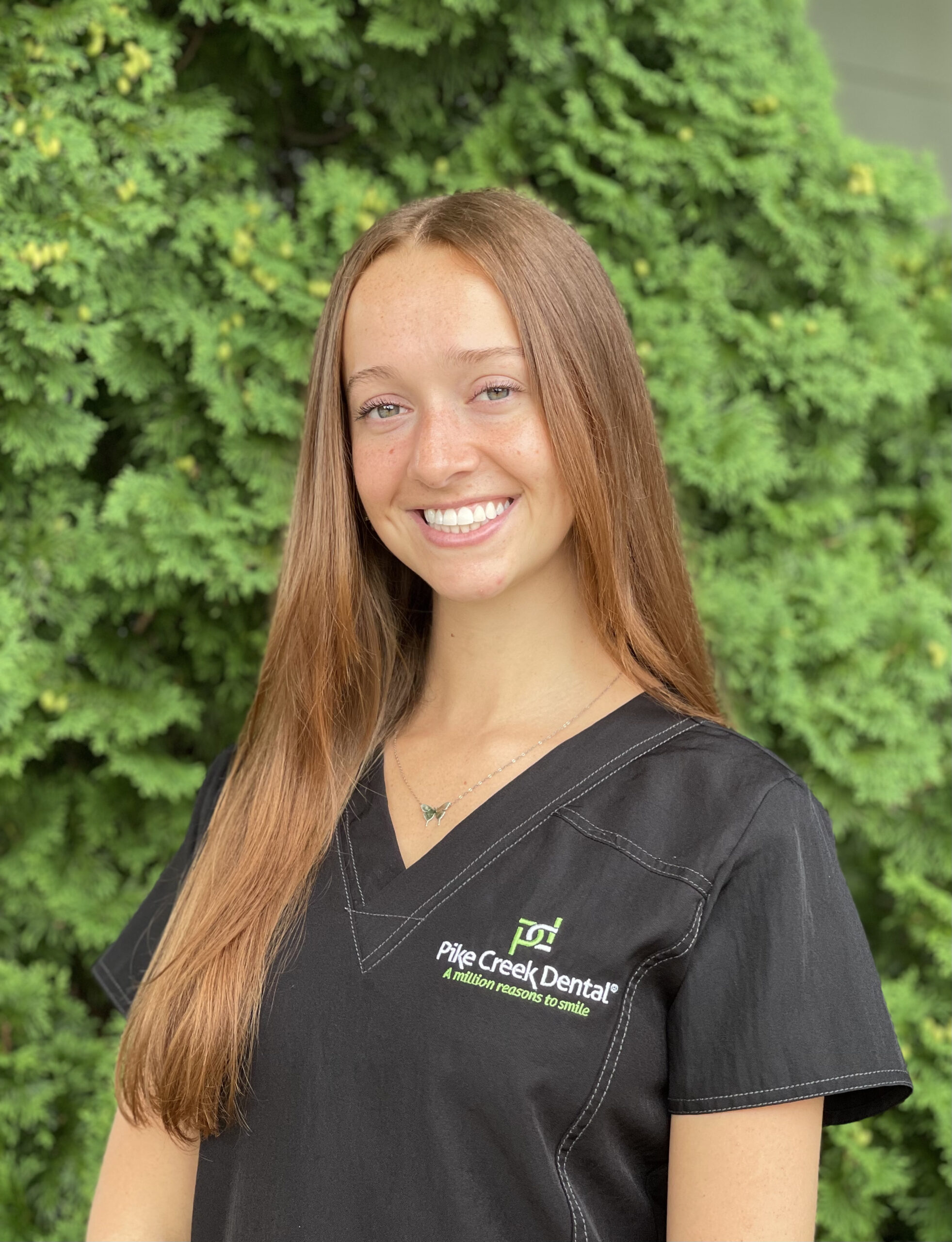 Serena
Serena attended the Delcastle dental assisting program to obtain her certification. She is known around the office for lending a hand and always being helpful and optimistic. Serena enjoys working on children and building new relationships with her patients. When not at work Serena loves going to the beach with her friends and family and spending time with her cat Twiggy.
"Life is short, smile while you still have teeth."