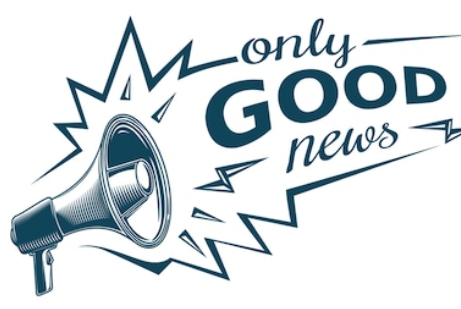 Pike Creek Dental is more than a "Dental Office", we truly want to enrich the community we are a part of and make our surroundings better! Here you will find news regarding our team, clients and more!
Our Pike Creek Dental Family continues to grow! Please give a warm welcome to Kristen.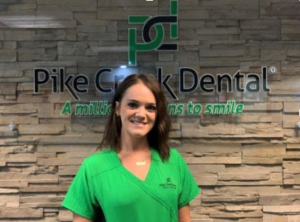 Kristen (Assistant) –  I am 28 years old. Born in Saratov, Russia adopted and came to the US at 2 years old. My loving and supportive mother raised my older sister and I in Pike Creek, DE. Graduated Dickinson High School then continued to Wilmington University and obtained an Associates Degree in graphic design, then made my way to Harris School of Business for Dental Assisting. I was a graphic designer for various sign companies for 5 years. I love being in nature, going on hikes, and listening to music. Social butterfly with a big heart always looking to meet new people. I am so happy to join the Pike Creek Dental Crew.
What is happening at Pike Creek Dental???
In early September our hygienist, Michelle celebrated her 36th work anniversary with Pike Creek Dental.

Not only was Pike Creek Dental a Top Workplace Winner, we also received an honorable mention award for Top Dentist of 2019. Pike Creek Dental ranked 3rd out of 475 Dental Offices in the state of Delaware.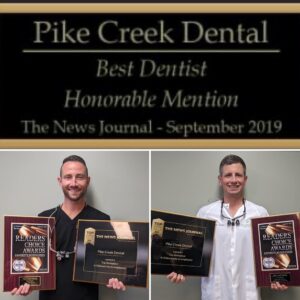 On September 12th, 2020 a few of our staff members attended the First Responders Day Event in Newport. They set up a table with all different dental supplies and a lot of Pike Creek Dental swag. It was a wonderful turnout and we were proud to be a part of such a great event.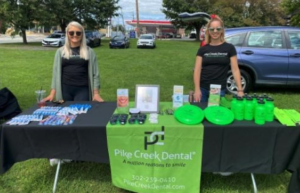 As many of you know, September is Childhood Cancer Awareness Month. Pike Creek Dental decided this would be the perfect time to give back to our local children's hospital. The doctors and staff put together 250 specialty patient bags for A.I. DuPont Children's Hospital Oncology Department. On September 29th, 2020 staff members made the special delivery to A.I. DuPont. It just happened to be World Heart Day!  The new specialty bags contained: toothbrushes, toothpaste, floss, saline rinse, 2 minute sand timers, lip balm, Pain and Sleep cups, and Pike Creek Dental Discount Cards. What better way to celebrate World Heart Day than warming the hearts of others!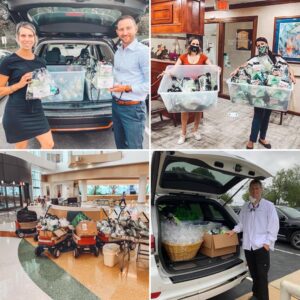 Covid UpdatesCovid-19 Update from Dr. Kyle Green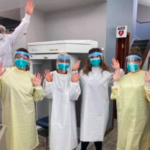 Please be assured that patients who need to be seen will be treated in a safe and overly precautious environment. We are incorporating the following:
 To limit communal exposure, only 1 adult to accompany the patient to appointments. 
 All persons arriving for an appointment need to text the front desk and check in. Once entering the office the patient will be checked-in by the front desk, screened and temperature taken by a team member. 
Please call to reschedule your appointment with any sign of illness including fever, cough, or runny nose from any condition including allergies. Also, all those that have traveled over the previous two weeks, need to reschedule.
 All persons entering our office will be asked to thoroughly wash their hands upon arrival and when leaving. Patients will also be asked to rinse their mouth with an antimicrobial mouthwash before being seen clinically. Please plan on brushing your teeth at home prior to your appointment.
All clinical staff will be wearing the appropriate masks and face shields for procedures.
Our office has added extra oral suction to all operatory rooms and air purifiers for the entire office.
 Patient comfort items have been temporarily suspended including refreshment area, iPads, magazines, and toys. 
Our front desk team will be reaching out to all those who need to be rescheduled and will continue to be available to answer phone calls during this time. If you have any questions or concerns, do not hesitate to reach out as we are always here to help. We will send out more updates as they become available.
Contests –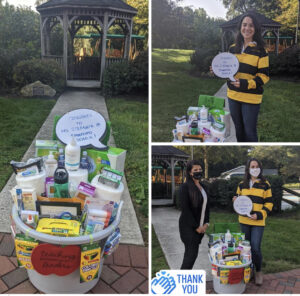 In September, we held a Back to School contest for teachers in the surrounding community. Our contest reached over 7,000 people via Facebook and Instagram. Over 75 teachers were nominated for our September contest. Thank you to all of our patients who nominated their favorite teacher and shared our post! A big congratulations goes out to our lucky winner, Ms. Laura Stefanik.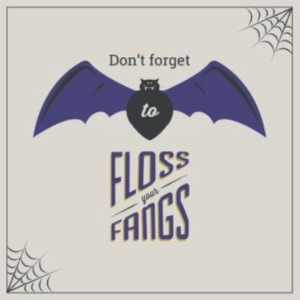 October is going to be a spooky fun time here at Pike Creek Dental! October is show us your clean FANGS Month! When you come in for your routine cleaning, ask for a pair of fangs to show us how Fangtastically clean they are! We will be offering a few different ways for our patients to participate in contests and have some fun during these uncertain times. If you are a child patient and come into the office in your Halloween Costume, you will be given a raffle ticket to be entered into a drawing for a chance to win a Spooktacular Prize. This will take place on Thursday, October 29th. We will also have jars of "Wicked Witch Teeth" on the front desk in both offices. Try to guess the number of "Wicked Witch Teeth" in the jar, without going over for a chance to win a Spooktacular Prize!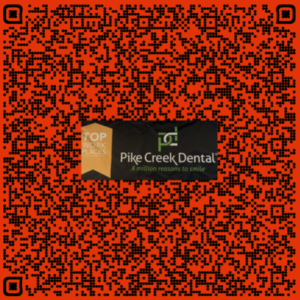 You can either scan the QR Code or fill out a paper guess form. The winner will be announced on Thursday, October 29th.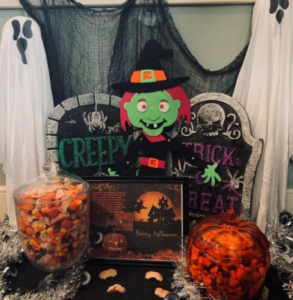 The week of Halloween we will have the prize wheel set up in the hallways between both offices. We will be giving out Pike Creek Dental swag, goodie bags, and some festive prizes.
See Last Month and Previous News Letters, Click Below: