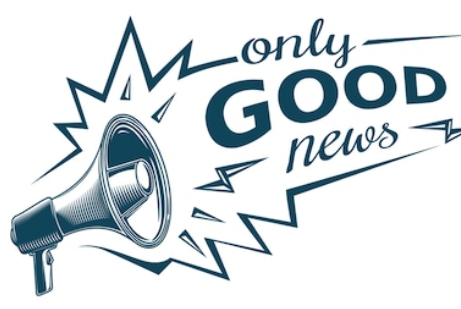 Pike Creek Dental is more than a "Dental Office", we truly want to enrich he community we are a part of and make our surroundings better! Here you will find news regarding our team, clients and more!
Welcome Back Dr. Green!
We would like to give a warm welcome back to Dr. Joanna Green. Dr. Joanna Green and Dr. Kyle Green welcomed their new little bundle of joy, Dalton in April. To say big sisters, Fiona and Stella are thrilled is an understatement. The Green's have been enjoying the summer as a family of five. Their family could not be happier. Once maternity leave was over, Dr. Joanna Green hit the ground running by continuing to further her education.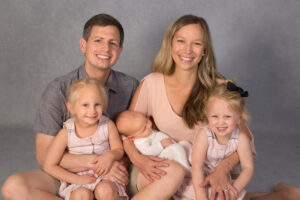 In late July, Dr. Green attended a course on the ALF appliance. The ALF is an appliance for all ages of people which works in conjunction with myofunctional therapy to stimulate bone growth and help balance the craniofacial complex while improving the airway and its function during breathing and sleep. ALF helps kids and adults who suffer from crooked teeth, high palates, small dental arches, mouth breathing, sleep issues including upper airway resistance and snoring, enlarged tonsils and adenoids, headaches and TMJ issues.
Our Pike Creek Dental team is growing! We are happy to announce the addition of a few new team members, three dental assistants. Please welcome: Christina, Nicole, and Amanda.
Christina joined our team in late June as a dental assistant. Christina has been working in the dental field since 2009 as a dental assistant. When Christina is not at work, she enjoys spending time with family and friends, but most of all, her puppy, Oakley. 
Nicole joined our team in the beginning of July as a dental assistant. Nicole has worked in the dental field for many years. Nicole's main goal is to make every patient feel comfortable and well cared for during every visit. When Nicole is not at work, she enjoys spending time with her children, gardening, and traveling to the beach. 
Amanda  joined our team in late June as a dental assistant. Amanda will be splitting her time between Pike Creek Dental as an assistant, and Pain and Sleep Therapy Center, as a Sleep Tech. Amanda has worked in the health field for many years. Amanda was born and raised in Kennett where she resides with her two children. When Amanda is not at work, she enjoys spending time on the Sassafras with her children.
Covid-19 Update from Dr. Kyle Green
Please be assured that patients who need to be seen will be treated in a safe and overly precautious environment. We are incorporating the following:
 To limit communal exposure, only 1 adult to accompany the patient to appointments. 

 All persons arriving for an appointment need to call the front desk and check in. Once entering the office the patient will be checked-in by the front desk, screened and temperature taken by a team member. 

Please call to reschedule your appointment with any sign of illness including fever, cough, or runny nose from any condition including allergies. Also, all those that have traveled over the previous two weeks, need to reschedule.

 All persons entering our office will be asked to thoroughly wash their hands upon arrival and when leaving. Patients will also be asked to rinse their mouth with an antimicrobial mouthwash before being seen clinically. Please plan on brushing your teeth at home prior to your appointment.

All clinical staff will be wearing N95 masks, a face shield, and a surgical gown for every procedure. 

Our office has added extra oral suction to all operatory rooms and air purifiers for the entire office.

 Patient comfort items have been temporarily suspended including refreshment area, iPads, magazines, and toys.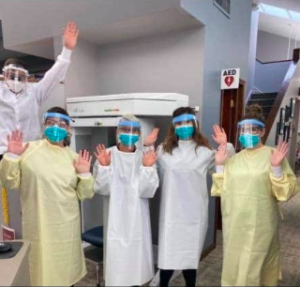 Our front desk team will be reaching out to all those who need to be rescheduled and will continue to be available to answer phone calls during this time. If you have any questions or concerns, do not hesitate to reach out as we are always here to help. We will send out more updates as they become available.
What's happening at Pike Creek Dental?
We have the best staff and we want to recognize their hard work and dedication to Pike Creek Dental. In the past two months we have celebrated 9 work anniversaries, 2  in which are milestones. 
In March, we celebrated Audrey, our hygienist's 5 year anniversary. 
In June, we celebrated Penny, our financial coordinator's 35th year with the practice. 
Theresa, our hygienist, celebrated 4 years. 

Liz, our dental assistant, celebrated  4 years. 

Summer, our dental assistant, celebrated 1 year. 
In July, we celebrated
Dr. Robinson celebrated 7 years of being the owner of Pike Creek Dental.

Andrea, our doctor treatment coordinator, celebrated 7 years.

Jill, our treatment coordinator, celebrated 3 years.

Jenn, our doctor treatment coordinator, celebrated 1 year.
We would like to run a contest for the month of August. For every patient that checks in with Pike Creek Dental on Facebook, we will enter your name for the chance to win a $ 20.00 gift card. While in the office do not forget to pick up your Pike Creek Dental swag located at the front desk.
Donations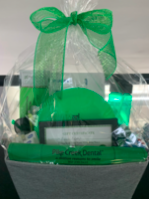 Pike Creek Dental continually strives to give back to our community. This past holiday season, employees made gift boxes full of dental items and age appropriate toys for Samaritan's Purse, an organization that sends boxes of toys to children in need overseas.  We also made numerous whitening baskets for local charities and local school events. Dental hygiene bags to local homeless shelters, Independence School, Skyline Elementary, St. Anthony of Padua Grade School, MS Society, Kay's Kamp are just a few of the many charities we have donated to in the last few months.  We would love to continue to give back to the community. If you would like for us to donate to your organization, please click on the link below and fill out the form. We are looking forward to contributing to your cause.